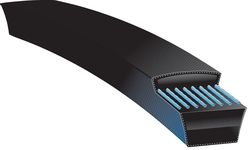 Belt 1/2x93" A91
PIX or Jason Industrial V-belt, 1/2x93". Classic V-Belts are great for high speed and high torque drives on light or heavy industrial equipment as well as automotive machines. 
Oil & Heat Resistant - Standard construction belts that deliver excellent performance in most drive conditions. Very durable in tough environments.
Static Dissipating - Safe performance in potentially dangerous atmospheres.
Covered - Longer lifespan and better performance.